Wisconsin's Next Statewide Election is April 2, 2024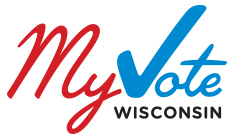 My Vote Wisconsin helps you fully prepare to cast your vote. Check your registration, sign up to vote by mail, even check out what's on your ballot so you can vote in the next election.
Important Dates for the Next Election
There are many important dates to be aware of leading up to any election. Check back as the spring 2024 election draws near to learn exact deadlines.
Get to Your Voting Location
Organizations across the state are working to ensure that everyone has access to their voting rights. The League of Women Voters has created a state-wide list of organizations you can contact for help getting to the polls. Many of these organizations offer rides for early voting as well, and many can help voters with limited mobility.
Vote Absentee in the Next Election
Mail
You can request an absentee ballot online by filling out this form. An acceptable photo ID is required. The suggested deadline for this request is approximately two weeks before election day.
Depending on when you complete your ballot, you can return your absentee ballot by mail. During the last two weeks before the election, it is recommended that you drop it off at your municipal clerk's office to ensure it arrives on time. Finally, on election day, you can deliver it in person to your polling place. The deadline for all absentee ballots to be delivered to the polling place or central count location is 8:00 pm on Election Day.
In-Person Early Voting
Your location to vote early is likely different than where you would go on election day. To vote absentee in person, find the hours and locations in your municipality by contacting your municipal clerk's office. Find your early voting location here.
Free Voter ID: If you would like to vote but do not have a valid ID, you can get a free voter ID card. It requires less documentation than obtaining a regular Wisconsin ID, and can be used as a second valid form of identification in situations that require two forms of ID.
Confidential Voters: Voters who are victims of domestic abuse, sexual assault or stalking can protect their privacy by becoming confidential voters. Learn about confidential voting status here. (Following this link may be visible in your browser history.)
Formerly Incarcerated People: In Wisconsin, people convicted of a misdemeanor can still vote, including in jail. A person convicted of a felony sentence temporarily loses the right to vote. However, after your sentence is completed, including parole or supervision, you are once again eligible to vote, and can register using the same process as all other voters.
Disabled Voters: Federal law ensures that disabled voters can have assistance in voting, including having someone else return your ballot. Find information about accessible voting options here.
More Information on Voting in Wisconsin