Over the past year, WAVE helped form the Wisconsin Gun Safety Coalition, a group of organizations and individuals devoted to preventing gun violence and building safer communities. After meeting regularly for several months, the coalition was formally kicked-off at a press conference April 2017. Coalition partners have already worked together to fight the dangerous "permitless carry" bill and, going forward, will work on a proactive, lifesaving agenda, including the advancement of a criminal background check bill.
WAVE volunteers turned out to support the kick-off press conference of the Wisconsin Gun Safety Coalition at the State Capitol. The coalition's endorsement of a bill to require background checks on every gun sale was also announced at that time. Coalition members include: End Domestic Abuse Wisconsin, Dr. Elizabeth Neary, Jean Papalia, Mental Health America of Wisconsin, Moms Demand Action for Gun Sense in America Wisconsin Chapter, National Physicians Alliance Wisconsin Chapter, National Association of Social Workers Wisconsin Chapter, Rep. Terese Berceau, Rep. Melissa Sargent, Rep. Lisa Subeck, Rep. Chris Taylor, Sen. LaTonya Johnson, Wisconsin Alliance for Women's Health, WAVE Educational Fund, Wisconsin Council of Churches, Wisconsin Physicians for Social Responsibility.
WAVE volunteer activists attended legislative hearings, town hall meetings, school board meetings, and face-to-face meetings with elected officials to ensure gun violence prevention is part of the agenda.
Members of our Milwaukee-area action team attended a town hall meeting with their state senator. Of the approximately 30 citizens at the meeting, more than half were there to speak out about the "permitless carry" bill being considered by the legislature. No attendees spoke in favor of that bill, and no other policy topic generated more than a single speaker. Although the senator began the meeting uncommitted on the topic of "permitless carry," after hearing from so many constituents opposed to the bill, by the end of the meeting she had voiced her opposition to the proposal. Our volunteers then went on to testify against the bill during a public hearing in Madison. The day after the public hearing, Governor Walker stated that he did not see a need for the bill.
Our highly-engaged supporters hosted WAVE education and awareness events in Madison, Milwaukee, Waukesha, Monroe, Appleton and elsewhere. These events included concerts, movie screenings, panel discussions, press conferences, and virtual meetings.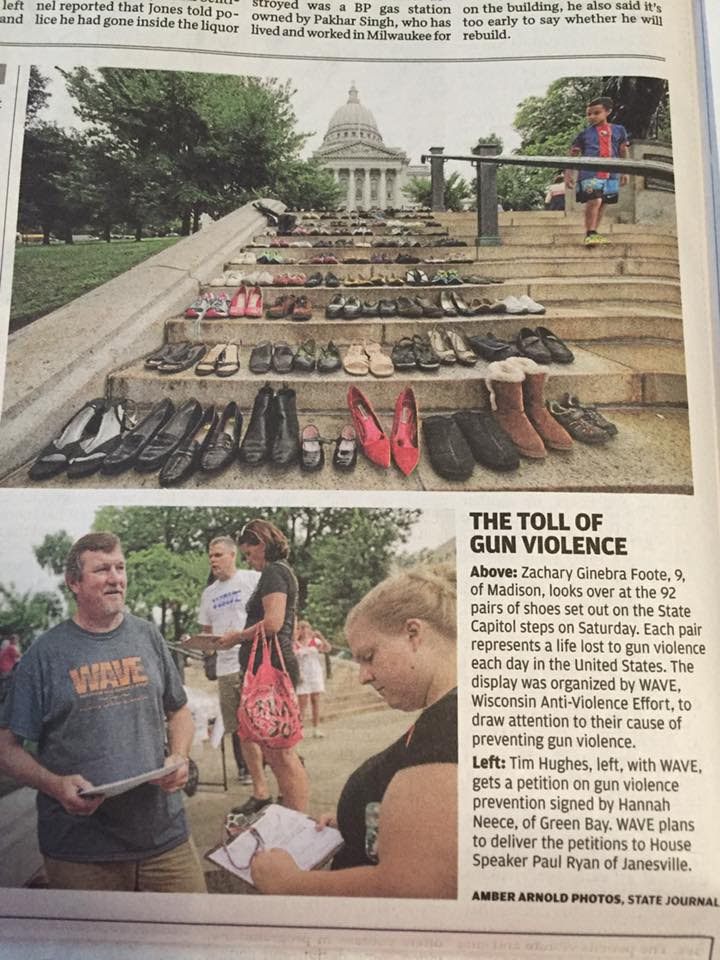 Our Madison group, for example, created a one-day display of 92 pairs of shoes at the Capitol to represent the 92 Americans killed in gun violence each day. The display generated a tremendous amount of media coverage and resulted in many signatures on a petition to pass a federal background check law.
WAVE staff and volunteers gathered signatures on petitions at numerous community events and neighborhood gatherings all across the state, including Fond du Lac, Waukesha, Wauwatosa, Appleton, Madison, Oak Creek and Milwaukee.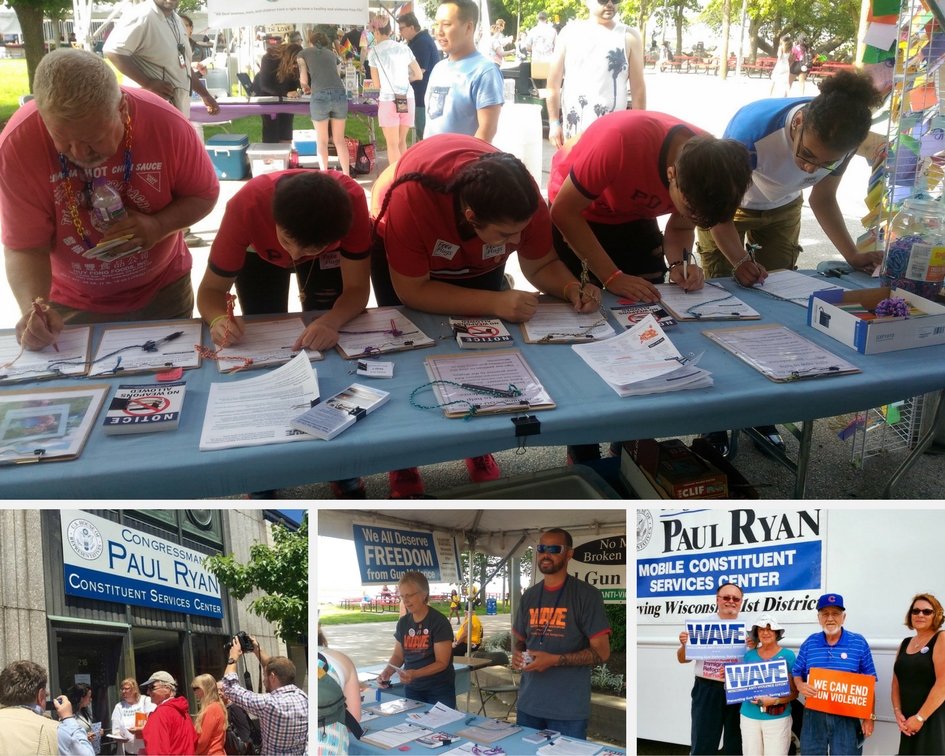 After one of the worst mass shootings in American history, WAVE activists gathered signatures at events across Wisconsin's First Congressional District, and constituent volunteers called on House Speaker Paul Ryan to move forward a bill for universal background checks. The petitions were delivered by WAVE's volunteers to Speaker Ryan's staff at his district offices and during mobile office hours.
WAVE volunteer activists advocated to school boards across the state to pass resolutions opposing any change in state law to allow concealed carry on school grounds. At least 15 school districts have now passed resolutions, including: Whitefish Bay, Oak Creek-Franklin, Shorewood, Madison, Nicolet, Fox Point-Bayside, Wauwatosa, Appleton, Brodhead, Kaukauna, Mequon-Thiensville, Monroe, Middleton-Cross Plains, McFarland, and Monona Grove.
WAVE staff held informational sessions for our action teams. Many of our volunteers then went to their own school boards, urging them to pass resolutions opposed to any legislation that would allow guns in schools. After having success with their own school boards, our volunteer teams began recruiting other parents to take similar actions. Our volunteers explained their experiences to other supporters on a statewide conference call that WAVE hosted. Next, the volunteers created an activist toolkit, which they shared widely. As a result of their efforts, more than a dozen districts have passed resolutions, and many more are in the process of doing so.
WAVE volunteers across the state provided local expertise to print and broadcast media outlets.
We trained volunteers to talk to the media about the issue of gun violence prevention and its impacts on their families, neighborhoods, and communities.
WAVE activists participated in rallies and protests across Wisconsin to bring attention to the issue of gun violence prevention.
Gun violence prevention policy is intertwined with many other policies and issues. This past year, WAVE volunteers joined the Women's March, the March for Science, and Moral Mondays, as well as the Wear Orange, Disarm Hate, and We Need Nine campaigns.